Bedford Lawn Aeration Service
Bedford lawn care just got a whole lot easier. If you live in Bedford, NY or the surrounding areas, the hassle of keeping your home lawn looking good doesn't have to be such a pain. Yard maintenance including grub control, shrub care, core aeration and other yard care takes time and patience and often requires quite a bit of knowledge to keep your grass green and your landscape looking its best. It's not easy knowing when to fertilize, whether you need lime or not, how and when to seed and a host of other things lawns need to be healthy and beautiful.
Thankfully, Red Carpet Landscaping is here to help you create a lush lawn and garden that you can be proud of. We have been serving the Bedford area since 2009 with our lawn care services and lawn maintenance, rejuvenating and caring for yards with our extensive home services.
We use only the most effective, safest products and have the most knowledgeable and experienced turf management technicians to make sure every project results in 100% guaranteed satisfaction.
Experience the Red Carpet Treatment
Sign up for one of our Turf Programs that includes both standard and organic fertilizer and weed programs for a perfect lawn!
Lawn Aeration Bedford NY
Technically speaking, lawn aeration in Bedford is the naturally-occurring procedure of air exchange between soil and the atmosphere. Plainly speaking, aeration is the procedure of mechanically extracting small plugs of soil and thatch from the yard to improve overall natural soil aeration. It commonly is referred to as core aeration within the lawn service sector, and you might've heard of it as soil cultivation. Many homeowners merely refer to it as aeration.
Aeration: What are the Benefits?
Core aeration may assist in making your yard healthier and decrease its maintenance requirements through the following means:
Root Growth
Enhanced thatch breakdown
Improved cushioning and resiliency
Enhanced drought and heat stress tolerance
Decreased soil compaction
Stronger turfgrass roots
Decreased puddling and water runoff
Improved fertilizer use and uptake
Enhanced soil water uptake
Improved air exchange in between the atmosphere and soil
Root Growth – Core aeration permits fertilizer, water, and air to better get to the root zone. It stimulates the growth of roots to create stronger, healthier turfgrass plants.
Aeration Equipment Will Affect the Results
The kind of lawn aeration in Bedford equipment may determine how efficient the treatment is going to be. Generally, turf responds better as core holes are deep and close. Equipment that has hollow tines will remove soil cores. Equipment that has open tines will divot the soil surface. Also, aeration equipment will vary in tine size up to three-quarter of an inch in diameter and in penetration depth up to 4″, depending upon the specification by the manufacturer.
Aeration: Why is it Necessary?
Compact soil will prevent grass from establishing a root system that is healthy and keeps fertilizer and water from getting to the roots.
In many home lawns, fertile topsoil might've been buried or removed within excavation of the footings or basement, forcing the grass to grow inside subsoil which is higher in clay content, more compact, and less than likely to maintain a healthy yard.
Mowing, playing, and walking compacts soil and stresses lawns. Irrigation and raindrops further compact the soil, decreasing larger air spaces in which roots grow readily. Compaction is higher on heavier clay soils than on sandier soils, and it's highest in the upper 1 – 1 1/2 of soil.
Lawn aeration in Bedford may assist in relieving soil compaction, permitting the grass to grow deeper roots, as well as make better use of fertilizer and water.
Soil Compaction
Turfgrass inside compacted soil slowly grows, lacks vigor and will become thin or doesn't grow, whatsoever. Core aeration will remove small soil cores, and deposits them on the turf's surface. It'll improve the extent and depth of turfgrass rooting, and it may assist in saving money on your utility bill.
Relieves Accumulation of Thatch
Many lawns are subject to accumulation of thatch. If left unmanaged, it'll impede pesticide, fertilizer, and water effectiveness. Core aeration will combine soil with thatch debris, in order for soil organisms to better have the ability to break down the thatch, as well as decrease its accumulation.
Buildup of Thatch
Even though a thin thatch layer can be beneficial, thatch accumulation shouldn't exceed. Excessive thatch will block out water, light, and air from reaching the root zones. Core aeration decreases thatch accumulation and will minimize its buildup.
Aeration: When is the best time to do so?
If you have cold season turfgrass like perennial ryegrass and Kentucky bluegrass, both fall and spring are perfect seasons to aerate. In the spring, aerate from March to May. Perform autumn lawn aeration in Bedford from August to November. Aeration at the time of or before late season fertilization will enhance root growth and improve spring growth and green-up.
Hot season turfgrasses like bermudagrass and zoysiagrass ought to be aerated from mid-spring to summer. Do not aerate when hot season grasses are dormant, as it might encourage competition of weeds. Also, avoid aerating hot season grasses within spring green-up; not until after the initial spring mowing.
What to Expect
Right after lawn aeration in Bedford, your yard is going to be dotted with tiny plugs pulled from the soil. Inside of one or two weeks, they are going to break apart and vanish into your lawn.
Around 7 – 10 days after aerating, the aerification holes are going to be filled with actively growing, white roots  an indication that the turfgrass is getting extra nutrients, moisture, and oxygen from the soil.
Upon compacted soils and upon lawns that have slopes, you ought to see an instant difference in water runoff and puddling after rainfall or irrigation. After aerating, the lawn should have the ability to go longer between watering, without having to show indications of wilt. With repeated aerations over time, the lawn is going to show enhanced drought and heat stress tolerance.
For more information on our lawn aeration in Bedford services contact Red Carpet Landscaping (203) 212-2498.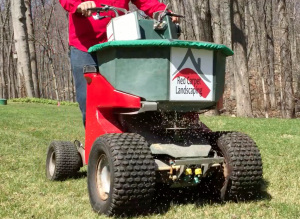 Lawn Care
Our lawn care program features custom blends of phosphate-free fertilizers with slow-release technology to produce a beautiful, lush, green turf.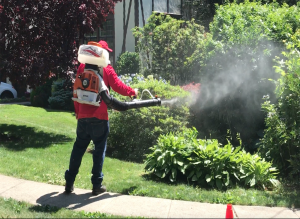 Pest Control
Your lawn serves as a barrier between your home and the wilderness. Ticks and fleas can pose a serious health threat to your family and pets.
Experience the Red Carpet Treatment.
Sign Up for one of our Standard Weed Control or Organic Fertilizer Turf Programs for a perfect lawn.
Let our customers do the talking!
Our goal is to provide the best Mosquito Control in Greenwich Connecticut. We are looking for the WOW factor! Sometimes our sales pitch isn't quite enough. For that we regularly ask our customers to review the services we are providing them. Below are the most recent reviews we've received. Good or bad we are posting them here for you.
Subscribe To Our Newsletter
Sign up for our email newsletter. We'll keep you up to date on all of the latest news with Red Carpet as well as any alerts that you should know relating to your lawn and landscape. We work with Mother Nature. Part of that is monitoring weather patterns and changes in our environment. With that there are insect outbreaks that can take place that could mean problems for your lawn and landscape. Stay up to date with the latest news by subscribing. It's FREE!
Call for a free estimate and if you would also like a free property evaluation we would be happy to send one of our specialists.