Lawn Aeration Bedford NY
If you want to maintain a lush green thick lawn then you should look beyond the regular lawn care services like fertilization, watering and mowing. It is vital for you to ensure that the soil beneath the turf gets the maximum amount of nutrients. This is why you need to go for a proper lawn core aeration service one of the most important prerequisites for a healthy lawn. Lawn aeration Bedford NY services come with a long list of advantages. If you want to make your lawn look lush and healthy then it's imperative for you to go for a reliable lawn care service provider like Red Carpet Landscaping. The turf grasses growing on your lawn hugely benefits from annual or biannual lawn aeration. It helps to lower the building of thatches and of course helps to relieve soil compaction. The lawn aeration Bedford NY services would help to enhance the recycling flow of water, air and minerals to the roots of the turf grasses resulting in a lawn which is healthier, greener and thicker.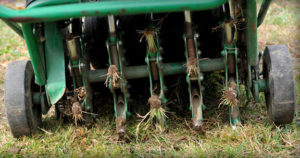 Unlike any other lawn aeration service providers of Bedford, Red Carpet Landscaping makes use of the best core aerators of the industry which is capable of applying up to 1200 lbs of hydraulic down pressure. Their team of Lawn Aeration service specialists come with years of training and experience in servicing home owners in need of lawn aeration. One of the best landscaping service providers of Bedford NY, they would enhance the look of your lawn and help to raise the value of your property. All you need to do is give them a call or write them a mail and you will be contacted by them within just 2 hours time. After accessing the size and other details of your lawn they will provide you with a cost estimate.
Lawn core aeration Bedford NY services by the experts would help to create spaces in your lawn through which light, water, air and nutrients can move effectively to provide the best support to your turf. Moreover the reduction of soil compaction would automatically lead to stronger and healthier turf grass roots. The professionals of Red Carpet Landscaping would help to perforate the soil of your lawn with small holes to allow increased flow of water, air and nutrients. This would allow the roots to grow deep and result in a stronger and visually appealing lawn.
You should consider going for a lawn aeration Bedford NY service if you face any of the following situations:
If you lawn also doubles up as the playground of your children or gets heavy use then you should definitely consider getting it aerated.
If the lawn dries out easily then you can be sure of a thatch problem which can only be combated with a professional aeration service.
Ideally you need to aerate your lawn during the growing season. This is the time when the turf can heal and fill out the open spaces once the soil plugs are removed. Early spring and fall are the best time for lawn aeration in NY.
If you would like an estimate for a lawn aeration, please call our office at (203) 212-2498 or complete our request estimate form and we will provide you with a quote.