Darien Lawn Aeration Service
lawn aeration in Darien ct just got easier. If you live in Darien, CT or the surrounding areas, the hassle of keeping your home lawn looking good doesn't have to be such a pain. Yard maintenance including grub control, shrub care, core aeration and other yard care takes time and patience and often requires quite a bit of knowledge to keep your grass green and your landscape looking its best. It's not easy knowing when to fertilize, whether you need lime or not, how and when to seed and a host of other things lawns need to be healthy and beautiful.
Thankfully, Red Carpet Landscaping is here to help you create a lush lawn and garden that you can be proud of. We have been serving the Darien area since 2009 with our lawn care services and lawn maintenance, rejuvenating and caring for yards with our extensive home services.
We use only the most effective, safest products and have the most knowledgeable and experienced turf management technicians to make sure every project results in 100% guaranteed satisfaction.
Experience the Red Carpet Treatment
Sign up for one of our Turf Programs that includes both standard and organic fertilizer and weed programs for a perfect lawn!
Lawn Aeration Darien CT
Lawn aeration in Darien is a vital practice which permits your lawn to heal and rejuvenate from excess foot traffic and drought while, at the same time, promoting thatch decomposition and healthy soil quality.
Red Carpet Landscaping lawn aeration in Darien service breaks up the overlap, or interface of various types of soil or sod, and will promote positive conditions for turfgrass development and growth. The process assists water and air to penetrate deep inside the soil, encouraging better turf quality and deeper root growth. This aeration offers a much more vibrant and healthier yard and landscape as a whole.
Seeding the lawn while in the process of core aeration is the ideal time to thicken the turf and assist in preventing unwanted weeds and grasses. We offer both slit-seeding and over-seeding which includes generously spreading new seed around the service of your yard or mechanically cutting grooves inside the soil and then depositing seeds for optimal seed/soil contact.
Let your Lawn Breathe
As it is nice outdoors, your lawn will host family picnics, games of tag, as well as dashes through the sprinkler. It is an open space for parties and additional gatherings however, to remain an excellent party host, the lawn requires room to breathe. Core aerification will help.
Is your yard appearing weary from excess foot traffic or drought? Core aerification aids in rejuvenating your yard by extracting small bits of soil and thatch, promoting more pore space, water and air movement and thereby healthy turf and better root growth. Also, it will promote thatch decomposition and microbial activity.
Timing: It's Everything
You should consider aerifying the lawn any time within the growing cycle to accomplish the best results; however, call your area Red Carpet Landscaping expert to determine the most suitable time for your yard.
Benefits of the Lawn
The lawn offers countless environmental benefits. In keeping it healthy you'll be supporting everybody around you.
The lawn is the basis of your landscape. Allow us to assist you in caring for it so you do not need to settle for anything less than a green, vibrant, healthy turf.
The lawn will do more than you know. Read below about the benefits:
Filters water, and makes it ten times less acidic than water that runs off a hard surface
Decreases heat by 20% to 30%
Improves quality of air by catching pollutants
Cleans air by extracting CO2 from the atmosphere
Offers habitat for small mammals and birds
A 50-foot-by-50-foot space produces enough oxygen for a family of four
Will control erosion from water and wind
Decreases noise levels by 20 percent to 30 percent more than surfaces that are hard
Getting Your Home Ready for Sale
A bit of landscaping may go a long way. Allow us to help you prepare your house for sale.
The outside of a house greatly can affect property and resale value. Offer correct landscape maintenance in order to yield a quicker sale and higher price.
Getting your yard ready for sale may greatly benefit you in the long-term.
Boosts a home's value by 28 percent
Reduces market time by 15 percent
98 percent of Realtors think mature trees impact a sale strongly
Lawn aeration: When is the best time to do it?
The ideal time for lawn aeration in Darien is within the spring or fall, when there's an abundance of moisture inside the soil.
Newer lawns may benefit from aeration two times per year – one time in the autumn and again within the springtime.
It decreases the thatch, which includes a layer between the grass of dead roots and the soil. As someone has a new lawn, they typically have buildup of thatch from the sod. Therefore, lawns such as that are normally advised to have the plugging aeration performed two times per year.
If you never have aerated the lawn, you might be hindering its growth. Landscaping professionals say aeration is an important part of any healthy lawn; however, what exactly is it, and what is it going to cost you?
Typically, lawn aeration in Darien involves the use of a machine that has cylinder-shaped tines that penetrate the ground. These tines pull 1.5″ plugs of grass, soil and thatch out from the ground.
It'll open the soil up and allow the grass plants to breathe. It'll permit better utilization of water, air, and fertilizer, and it'll drive the roots down deep.
The most typically used lawn aerators appear similar to push lawn mowers, but manufacturers additionally sell riding models.
Also, you might see lawn aerators which attach to riding lawn mowers or tractors, in which the tines are connected to a weighted drum which spins as the machine moves ahead.
For more information on our lawn aeration in Darien services contact Red Carpet Landscaping (203) 212-2498.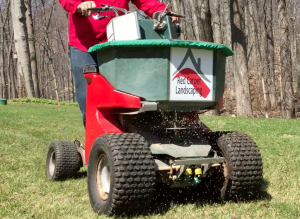 Lawn Care
Our lawn care program features custom blends of phosphate-free fertilizers with slow-release technology to produce a beautiful, lush, green turf.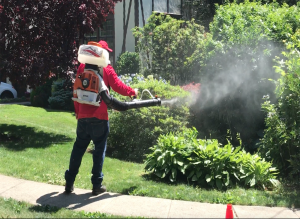 Mosquito & Tick Control
Your lawn serves as a barrier between your home and the wilderness. Ticks and fleas can pose a serious health threat to your family and pets.
Experience the Red Carpet Treatment.
Sign Up for one of our Standard Weed Control or Organic Fertilizer Turf Programs for a perfect lawn.
Let our customers do the talking!
Our goal is to provide the best Mosquito Control in Greenwich Connecticut. We are looking for the WOW factor! Sometimes our sales pitch isn't quite enough. For that we regularly ask our customers to review the services we are providing them. Below are the most recent reviews we've received. Good or bad we are posting them here for you.
Subscribe To Our Newsletter
Sign up for our email newsletter. We'll keep you up to date on all of the latest news with Red Carpet as well as any alerts that you should know relating to your lawn and landscape. We work with Mother Nature. Part of that is monitoring weather patterns and changes in our environment. With that there are insect outbreaks that can take place that could mean problems for your lawn and landscape. Stay up to date with the latest news by subscribing. It's FREE!
Call for a free estimate and if you would also like a free property evaluation we would be happy to send one of our specialists.