Lawn Maintenance in Darien Connecticut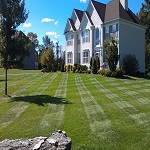 Lawn care in Darien, Connecticut requires a specialist. With all the special requirements that the lawns and flowers require in Darien. We know how to make your garden, flowers, and lawn look the best. With specialized training to every employee we are so sure you will love our lawn maintenance service that we have a 100% risk free guarantee.
Lawn Maintenance Darien CT, if you don't like our Lawn Maintenance service, you won't have to pay for it.
We can offer such a powerful guarantee because of what we do. We hire the best possible professionals, re-train them to our high standards, then we help them every step of the way while they asses your lawn and property. then we work out a lawn care maintenance procedure that they must follow to ensure everything is done correctly. After we finish training our employees we continue educating with seminars and guest speakers, in order to continue our great service. We don't just cut and run, we stay with you all the way from start to finish. We follow up with you and stay in constant contact with you in order to help improve your experience. Call us now at (203) 212-2498 or email us at customerservice@redcarpetlandscaping.com
Darien CT Lawn Maintenance Services
We offer the best lawn care maintenance option in Darien CT because we know the area, the terrain, the weeds that might affect your lawn. We know how and at what height to cut your lawn, how to keep it watered, and what you can do to improve to improve the look of your lawn.
We hire a 100% legal workforce, and we preform regular drug tests and background tests, so you can rest assured that nothing will happen. We do this to ensure that your lawn maintenance service will give you pride and equity in your home and property. You can bet that our people will take on the responsibility of making your property look the best, and provide a range of services. We can even take care of your flowers. We don't take shortcuts.
Rest assured with Red Carpet Landscaping Darien Lawn Maintenance service
Don't worry about lawn maintenance Darien. Call in the professionals at Red Carpet Landscaping in order to free up your weekends, or just to have a nicer looking lawn, and property. We provide maintenance of your lawn, flowers, hedges, bushes, and flower beds.
Call us today at (203) 212-2498 or email us at customerservice@redcarpetlandscaping.com to get a free no obligation estimate