Lawn Maintenance in Greenwich CT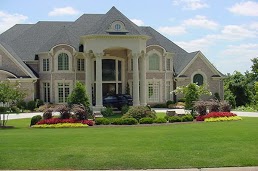 Providing service in Greenwich, Stamford and Darien CT. Red Carpet Landscaping is the best option for a service provider. When you become a customer you will learn why everyone loves us. A green and lush lawn without any effort or dirty hands on your part. You can watch someone else do the work while you relax. Call Red Carpet landscaping today at (203) 212-2498 for a free personalized estimate.
Greenwich CT Lawn Maintenance
After working long hours all week at your job, the last thing you want to do is put on boots and go outside to do lawn work. You don't want to push a lawn mower all over your front yard. Fortunately for you, Red Carpet Landscaping offers both weekly and bi-weekly lawn care in Greenwich CT. This means that you will never have to give up another weekend to work on your yard or in your flower beds. Instead of working outside weeding your Saturday away, spend your time with your family or even take a well deserved nap, or just read a book.
Lawn Maintenance Stamford services are available 7 days a week, 52 weeks a year. Call us at (203)212-2498 now and you can have a freshly cut lawn by dinner time. You might even want to eat outside today.
You can obtain a free service estimate by calling us (203)212-2498, or requesting a Free Estimate.
Before you hire a company, ask them a couple of questions:
1. Do they sharpen there mower blades every day.
2. Do they switch mowing direction weekly to eliminate ruts, and provide a better cut
3. Do they employ only 100% legal workforce.
4. Do they have insurance at least $2,000,000
5. Do they do background and drug tests on there employees
6. Do they guarantee your total satisfaction in writing