Lawn Mowing Greenwich CT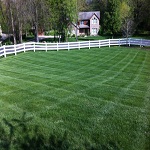 Red Carpet Landscaping will take care of all your lawn mowing needs! Don't spend your weekends and free time struggling with your lawn mower, enjoy them with your family, playing fetch with your dog, or just reading a book. With Red Carpet Landscaping you will get your time back and have a enjoyable lawn instead of fighting with it.
Call us today at (203)212-2498 for a free estimate or get one online here.
Greenwich CT Lawn Mowing benefits
Spending to much time and energy on your lawn mowing, only to find out it does not look as good as your neighbors. Did you just get a call for you in law's that they are coming for a surprise visit, and your lawn needs a mowing. Don't worry! Call Red Carpet Landscaping we are available 7 days a week, 52 weeks a year for same day service with our Greenwich Lawn Mowing professionals.
Red Carpet Landscaping mowing includes more then just a simple lawn mowing.
Edging with a steel blade along driveways, patios, sidewalks, and patio's.
Detailed line trimming where the lawn mower does not reach and along fence lines, trees, mailboxes, flower beds, and misc. posts.
Removal of any debris and excess trimmings.
Weekly or bi-weekly mowing services.
contact us at (203)212-2498 or email us at customerservice@RedCarpetLandscaping.com or request a free no obligation estimate.