Lawn Mowing Services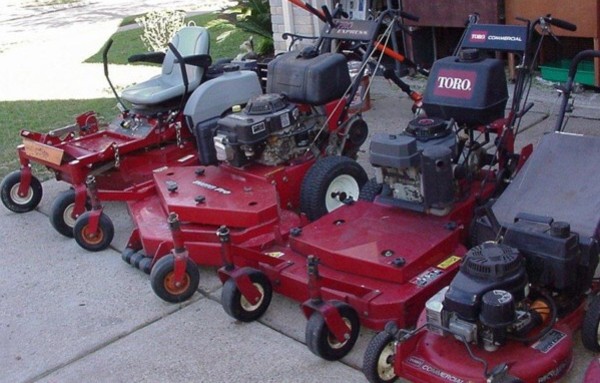 Our lawn care service includes policing the yard for trash prior to mowing. The Turf will be mowed evenly and completely at a height best suited for the grass. Line trimming (weedeating) will be preformed in areas we can not reach with a mower and around all trees, poets, fences, ect to a height of the adjacent turf. Turf-grass research shows that using mulching mowers it is better for the lawn and is a tremendous help to the environment. We edge all walkways, driveways, patios, concrete surfaces, flower beds, with a blade edger and clean up all the clippings.
We are happy to provide you with a free estimate and discuss your particular needs. We recommended weekly service in order to maintain a lush and well maintained grass, or if you want to improve the appearance of you lawn. We do as well offer a bi-weekly lawn service.
Our crew members remain with us year after year. This allows them to become familiar with your lawn and property. You will not have to worry about different strange people coming to your property every week. They will know your property lines, wet spots in the lawn, and non level spots to maintain your lawn beautiful.
Crew members are trained to do the following:
Sharpen mower blades daily.
Mow the correct height all season long.
Blow grass off all mulch beds and hard surfaces.
Trim along your driveway, walkways, and tree rings.
Stripe all open areas.
We do not do the following:
We will not cut in the same direction each week creating ruts.
We do not turn our mowers so sharply that it creates bare spots.
We do not trim so closely that it kills existing grass.
We will not cut wet areas with large machines causing extensive damage.
We will not leave scalp marks.
Red Carpet Landscaping will leave your lawn striped and manicured beautifully.
Commercial Lawn Mowing Services
Lower Fairfeild County area commercial properties looking for property landscape management need to look no further. We will make your business, apartment or neighborhood common grounds look clean and well maintained. We have the knowledge and the staff to make any property, large or small give a great first impression. Realtors all agree that having a professional landscape management company helps increase the value of your property.