Lawn Care Darien Connecticut by Red Carpet Landscaping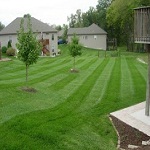 What's the difference between a good looking lawn and a great looking lawn?
Red Carpet Landscaping believes that it's attention to detail. You should not be satisfied unless you get the best possible looking lawn. That is why we pay so much attention to detail in the way we mow your yard.
We mow your lawn at the height most suited for optimum growth. We automatically lower our blades in the spring and fall. The mowers we use are mulching mowers that provide the grass with additional nutrients and moisture control.
We line trim (weedeat) where the mowers will not reach. Line trimming is done around all trees, flower beds, down spouts, and fence lines. edging is done next to the driveway, walkways, and patios. It is the small details that matter. you want to make sure everything is done otherwise it will stand out.
Darien CT Lawn Care with Attention to Detail
For the best lawn care service in Darien, call us at 203-212-2498 or send us an e-mail to customerservice@RedCarpetLandscaping.com. We provide free estimate usually the same day.
Our lawn care Darien services has the finest reputation.
You Can't Beat Our Guarantee, Either!
We offer the best guarantee in the business to our lawn mowing customers in Darien. If you're not completely satisfied with some element of our service, we'll make it right.
Our Services
Red Carpet Landscaping offers a full range of lawn care services:
To sign up, call us today at 203-212-2498 or send us an e-mail to customerservice@redcarpetlandscaping.com. Within 24 hours we'll provide a comprehensive lawn mowing estimate.
Don't Overlook the Added Benefits of a Professional service company.
We employ only legal workers that must pass both drug test and background checks.
Our staff is always in uniform.
Our trucks are labeled so you know who we are.
Every employee speaks English.
Everyone on your property is properly trained in all aspects of maintaining your lawn
This ensures that nothing can possibly happen on your property.
All of our services have a 100% satisfaction guarantee. Lawn care Darien is what we do.
Call us for all your lawn care needs. You'll never talk to a sales person. We're all hands-on lawn care professionals. So don't delay! Call now at 203-212-2498.