Lawn Care Greenwich Connecticut, by Red Carpet Landscaping.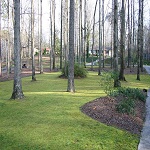 Lawn care in Greenwich CT can be torture. Taking care of your lawn can be hard work. You have everything working against you when you try to do it yourself. You find out you don't have the energy or time to do lawn care. At this you call the professionals at Red Carpet Landscaping.
Lawn care Greenwich is our specialty.
We take care of all your lawn care needs, while you relax. If you need help fixing, or just simply maintaining your lawn give us a call at (203) 212-2498. Our goal is to provide you with the best possible service and best looking lawn, without needing any effort from you.
If you want a company that will be there when you call, Red Carpet Landscaping is the company for you. you can call us any time at (203) 212-2498 for lawn care in Greenwich CT. You can ask us questions about how we work, as well as requesting a free estimate from us. We will tell you exactly what you need to do to have the best lawn on the block. When you become a client we will send you monthly updates of recommended sprinkler setting, as well as useful tips to help enhance the beauty of your yard. We do all this so that you don't have to think about it
Our organic fertilizer programs allows you to enjoy your lawn without an side affects of using chemicals on your lawn. You can enjoy rolling around in your lawn with your children without having to worry about what chemicals might be present.
Greenwich Lawn Care
Some of the services we offer: