Lawn Care Stamford CT by Red Carpet Landscaping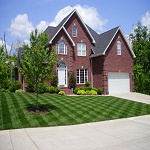 Stamford Connecticut is a town that takes outside beauty to a whole new level. From the multi color power boxes in downtown, to streets lined with trees. Red Carpet Landscaping can help you add that extra beauty to your property and your influence on Stamford's look.
Boasting The Most Powerful Lawn care Guarantee in Connecticut. Red Carpet Landscaping guarantees complete customer satisfaction or your money back. What do you have to lose?
Call Red Carpet Landscaping for a free Lawn Care Stamford Estimate at (203) 212-2498, or you can fill out a easy Estimate form, and we will call you back.
Stamford CT Lawn Care Services
Red Carpet Landscaping has the complete and comprehensive lawn care Stamford of any other company. We go above and beyond the standard mowing service. Red Carpet Landscaping mowing service includes policing of trash before we mow, then mowing the turf to the most suitable height. Wherever the mower will not reach we line trim(weedeat) around flower beds, fence lines, pools, and downspouts. After we edge all patios, sidewalks, driveways we clean up all the clippings that fall on the hard surfaces. There will be no bold spots, or areas that need to be fixed. Red Carpet Landscaping as well mows in a different direction every week providing you with the best possible lawn for the money. We aim to please, so choose us.
Call today at 203-212-2498 or e-mail us at customerservice@redcarpetlandscaping.com. Let us help you enjoy your weekends instead of doing lawn care. You will have the nicest yard on the Block
Our Services
Call us today at 203-212-2498.