Lawn Maintenance Stamford CT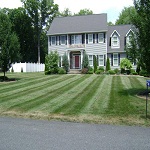 Lawn Maintenance Stamford CT has it own challenges. The summer days could reach in the high 90's and the extreme humidity could wipe you out. Then the leaves start falling and you lose total control over your yard. Don't let this happen to you. Call in the experts at Red Carpet Landscaping and let them deal with all of this. We are the premier experts in the area of how to deal with your yard to make it the best looking yard in the area. We even guarantee all of our work with the best guarantee in all of Connecticut. If you are not satisfied with a service we will redo it at no cost, and if you are still not satisfied you will not owe us anything.
Lawn Maintenance Stamford that's right, if you don't like our service you won't owe us anything.
Lawn Maintenance in Stamford CT by Red Carpet Landscaping
Red Carpet Landscaping mowing includes more then just a simple lawn mowing.
Edging with a steel blade along driveways, patios, sidewalks, and patio's.
Detailed line trimming where the lawn mower does not reach and along fence lines, trees, mailboxes, flower beds, and misc. posts.
Removal of any debris and excess trimmings.
Weekly or bi-weekly mowing services.
The following list is just a sample of what Red Carpet Landscaping provides
No job is too large or too small.
– Make any flower bed stand out with mulch. It will also help prevent weeds.
– If you have a garden or flower bed, we can help it look spectacular.
– Colorful seasonal flowers can add that extra highlight to you front and back yard.
– This includes aeration, detaching and overseeding, as well as a general cleanup of your yard and planters. It should be done at least once a year.
– If you have a large amount of trees, then it might be time to call us so we can take care of all the leaves that fall. https://redcarpetlandscaping.com/leaf-removal/
A very important service if you want your hedges and bushes to look there best.
Please feel free to call the Red Carpet Landscaping Professionals for all of your lawn Maintenance Stamford Needs at (203) 212-2498 for a FREE Estimate.