Lawn Mowing Darien Connecticut for a Clean Cut
If you have mowed your yard you know how hard it can be. It takes a lot of work specialty if you want the look of a magazine. When you finish mowing, you need to line trim, then edge, and probably trim hedges. All of a sudden the weekend is over, and you missed your time off. This is where we come in. call us at (203) 212-2498 Lawn Mowing in Darien CT is our specialty. We offer a 100% satisfaction guarantee to make sure that you are satisfied.
Lawn Mowing Darien CT during the summer can be a real pain. From the heat of the sun beating down on you to the humidity of the summer. When your working outside there is no shade to hide in. There probably is something that you rather be doing during the day. So let us do the work for you.
We make sure that your grass looks the best it can during the summer. Weather it be a party, a barbecue or just a regular day, lets us make you proud of your property. No matter how small or large your property is in Darien, mowing it will be our pleasure.
Mowing is a important service to keep your lawn gorgeous. Here at Red Carpet Landscaping, we do much more then just lawn mowing in Darien ct.
Our Services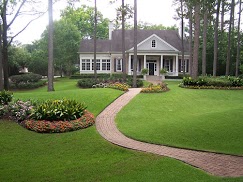 To sign up, call us today at 203-212-2498 or send us an e-mail to customerservice@redcarpetlandscaping.com. Within 24 hours we'll provide a comprehensive lawn mowing estimate.
Call us for all your lawn care needs. You'll never talk to a sales person. We're all hands-on lawn care professionals. So don't delay! Call now at 203-212-2498.