Lawn Service Stamford CT by Red Carpet Landscaping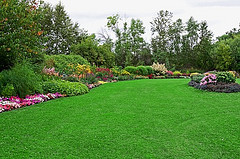 Some people take great pride in doing things stuff by themselves. They believe that they can do it the best compared to everyone else. They are never satisfied unless they do it themselves, because they want it to be perfect. This however takes a lot of free time if you want to maintain a lawn.
This is where Stamford Lawn Service can save you.
A lot of people are perfectionists when it comes to lawn service. They know how the lawn is suppose to look, and they will do whatever they possibly can to achieve that goal. Maybe you are one of these people.
Lawn service Stamford You will find the people mowing the grass after they get home from work. They wake up first thing on the weekends, and they head outside with a rake and shovel in there hands to do yard work. They will spend there entire weekend working outside in the garden, flower beds, and fighting crabgrass and other weeds. They fight with the growing grass in the hottest days with the highest humidity. There locked in with a battle with weeds, and the elements in order to have a perfect lawn. They take pleasure in doing all of this.
However they are missing out on stuff they could be doing instead of working outside. If they called Red Carpet Landscaping at (203) 212-2498 and let us take care of there needs, they could spend more time at home, with there families. Or they could spend time on hobbies or getting a promotion at there job, or just relaxing.
Your Free Time is Your Own Again.
All they need to do is call Red Carpet Landscaping at (203) 212-2498. We're the best when it comes to lawn service in Stamford. We keep thousands of yards looking great in the Stamford area, and we know how to care for your lawn.
Don't miss out on more important thing in your life then your yard. let Red Carpet Landscaping take care of all your lawn. We provide the best lawn service in Stamford CT. We can make your yard the envy of everyone on your block and neighborhood, without any effort by you. Call us today at (203) 212-2498 or email us at customerservice@redcarpetlandscaping.com
Our professional staff provides the following services.